 Is a job on a superyacht for you?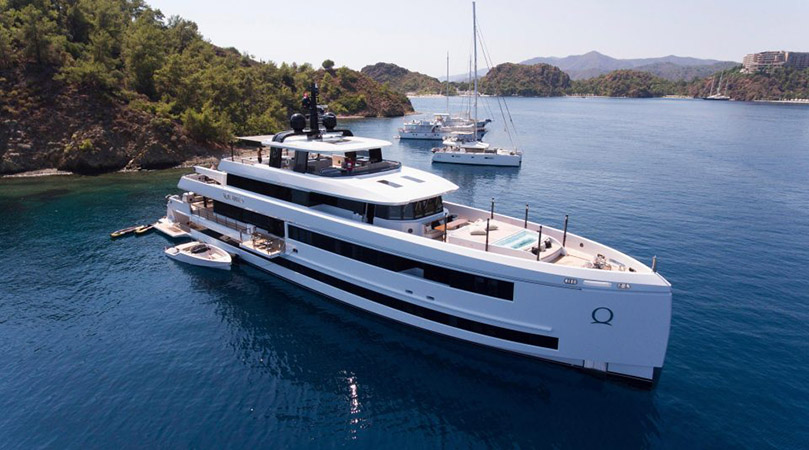 Here are some Frequently Asked Questions's….
All you need to work on a superyacht is a willingness to learn, positive attitude, a love of hard work and most importantly a sense of adventure!  If you're up for a challenge and keen to travel, then working on one of the world's most beautiful sea faring vessels could be perfect for you.
As superyacht crew recruiters we've put together just some of the questions we're frequently asked:
What's a superyacht?
Either a privately owned or chartered motor or sailing yacht, which could measure anything from 24m (80ft) up to 130m (420ft) in length.  Could be longer!  Superyachts can vary from those under sail to those automated or explorer type vessels with helipads and submarines on board!
Who owns a superyacht?
The owners are generally from the top 3% of income earners in the world, members of the world's super elite.  They can comfortably afford to buy the best of everything, from furniture, works of art, crystal cut glassware and beautiful cutlery right down to the crisp linen and luxurious towels - so why shouldn't they expect the very best service from their staff.
How many people work on a superyacht?
Some yachts employ a crew of 2, some have 60.
What kind of job opportunities are there?
Superyacht owners employ a vast array of talented crew, contractors and shore services, from engineers, chefs and kitchen staff, deck crew and stewardesses. The onboard team are expected to work together to keep the superyacht running smoothly all year round, no matter the season or event, and wherever the owner chooses to anchor at any of the stunning yachting centres worldwide.
Is it just the owners on their superyacht?
Not just owners but their families and friends will enjoy the best and most over the top of everything, superyachts often accommodate the owner's family and between 3 and 12 guests on board.
Where do superyachts hang out?
Could be Australasia, the Pacific, Indian Ocean or Alaska-Great Lakes and other regions. But there are 3 main areas namely; Fort Lauderdale, USA & The Med (in particular Palma, the Italian Coast and South of France).
Dockwise (www.yacht-transport.com) is a great place to find out the season's crossing start and finish dates.
When is a good time to apply for work on a Super Yacht?
Boats generally head for Europe between March and April, but some might head down as early as February or as late as June.  The season runs until mid-October, although crew are often required to stay onboard when the yacht's in the boatyard or during Winter.  Crew can even make the most of their free time by whizzing off for a weekend in the Alps.
Posts on Superyacht crossings to the South Pacific or Caribbean/USA can often be secured at the end of the season in October but remember if it's being loaded onto a larger ship you won't get the sea hours in your log book.
What's the difference between Charter and Private Yachts?
Charter is when an individual pays a charter broker to use a yacht, attended to by the crew onboard.  Private yachts are crewed but used by the owner and his family and friends for their own personal use.
Generally speaking, charter can mean more money, more work. The average tip for a charter is 10% and with charter fees ranging from tens of thousands to nearly a million dollars per week, tips can add up very quickly.  It doesn't come easy though, be warned some charter guests who are paying a fortune to be onboard can be extremely demanding.
Also, during a typical charter season, it's not unusual to have less than 24 hours turnaround between one charter group leaving and the next arriving, week after week.
Crew on charter yachts will work longer and harder than those on private yachts.  A crew member on a private yacht will work hard but they'll have time to play too, more time off and more time between trips.
What are the hours like?
You'll often work long hours, longer hours in a working week and longer work days, so if you're work shy this job is not for you!
How do I apply?
If you haven't already got a login then simply sign up at https://www.yotspot.com and upload your latest CV, take a look at our latest exciting crew opportunities and follow the quick and easy application process.
Any queries just give one of our friendly team a call on 023 80 381928.