Success Stories
Viktoriia Paiul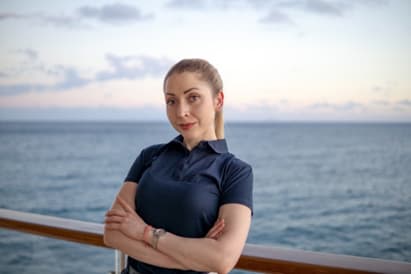 Nationality: Ukrainian
Service Stewardess: 113M Superyacht
A friend recommended Yotspot to me, I'd been working in the cruising industry before and was already working on a yacht, then found my next job via Yotspot, where I was shortlisted a few times for Stewardess jobs onboard superyachts. I passed my interview and now I'm a Service Stewardess. Happily recommending Yotspot to my friends looking for jobs in the yachting industry. The job is great, I get to travel around, see different places, meet lots of famous people and I get huge job satisfaction.
Best spot... Caribbean - I just love it and I can't wait to see all the islands. I also love the Med, Italy in particular is beautiful.
I've been Service Stewardess on this vessel - which can't be named - for 2 months. I work long 12-hour days with a break, but the days are shorter when there are no guests on board, might be 8 and a half hours, so there's more time to rest and recharge.
The best bit of my job is making guests happy. Carrying out the mealtime service, then clearing up after. I love it when the guests are relaxed, enjoying themselves and satisfied with the service they've received - that makes me happy.
The best tips... believe in yourself, find your place in this industry, do something you love. Keep going, work hard, improve yourself, never stop learning something new. There is so much opportunity in the yachting industry, I learn different things on different boats. Each yacht has a preferred way of doing things, so I get to learn special tricks.
If I was a newbie now, I'd take every opportunity to learn. Some boats are happy to pay for your courses too, so you have the chance to stay longer and improve your skills. It all just depends on how ambitious you are and how you want to improve and grow.