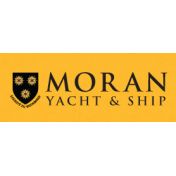 Captain
EUR (€)TBC
Start Date: 28th Nov 2018
Job ID #644840
Posted by: Moran Yacht Management
Summary
Experienced Master with Masters Unlimited License needed for Large Passenger Yacht.
Overview
Vessel Size150m+ (492ft)
Vessel TypeMotor Yacht
Charter/PrivatePrivate
Position TypeRotational
Cruising ItineraryMediterranean Sea
Yachting Experience5+ years
Looking for Team/CoupleNo
Posted 28th Nov 2018 by Agency
Language & Visas
English Fluent
VisasB1/B2
Schengen

Qualifications
General Qualifications Proficiency in Designated Security Duties (A-VI/6-2) [Essential]
Proficiency in Security Awareness (A-VI/6) [Essential]
ENG 1 (Medical - NO Limitation/Restrictions) [Essential]
STCW 95 (STCW 2010) [Essential]

Master/Skipper Qualifications (or Merchant, USCG & AMSA equivalent) RII/2 CoC Master (Unlimited) / Class 1 [Essential]

Interested?
Applying for this position is really simple, but you need to login first...
Homeport
Destination
Current Location