 Workrest - The easiest way to log and monitor hours of rest!

The easiest way to log and monitor hours of rest!
Workrest has unveiled it's brand new platform designed to save you and your crew hours every month.  
Branded the easiest solution for logging and monitoring hours of rest, workrest combines a simple app for crew to log hours in both online and offline modes with a powerful vessel dashboard for captains to track compliance and digitally sign off and export timesheets.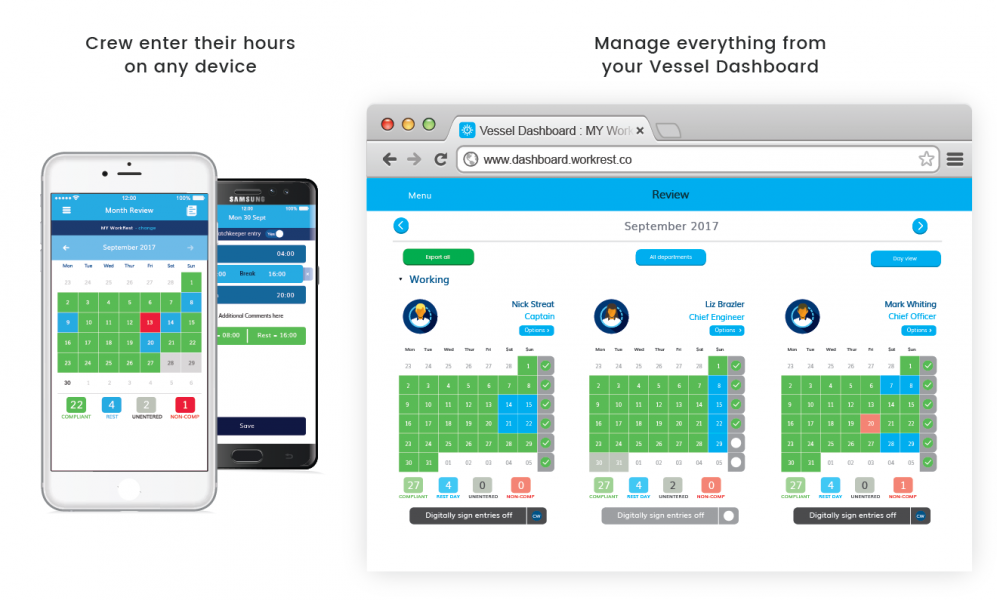 Despite being incredibly simple to use, workrest is packed with industry leading functionality including a specially designed algorithm which performs 200 potential calculations per second to generate the most accurate demonstration of compliance to MLC, STCW and US OPA legislation.
The system helps captains and crew to:
Stay up-to-date on compliance. Compliance notifications instantly advise captains when non compliant hours have been entered, including the exact timeframe for when it occurred.
Go paperless. Allowing users to sign off their entries on their device, enables workrest to  generate a fully paperless, IMO / ILO compliant timesheet that can be downloaded, emailed or stored in the cloud (timesheets are ready to print pdf's).  
Simplify logging. Multiple day entries and work profiles enable crew to reduce the amount of time spent logging hours of rest.
Tim Fletcher, founder and CEO say;
"We care deeply about simplifying the hours of rest process.
Employees at workrest have all come from maritime careers and have been affected by the lack of suitable options for logging and monitoring hours of rest.
That's key to enabling us to provide a solution that's simple and intuitive to use whilst providing the highest level of functionality."
Workrest is available to download now from the app store, android store or online at workrest.co
Workrest #1 for hours of rest from workrest on Vimeo.
app store link: (https://itunes.apple.com/app/apple-store/id1197375676?pt=117350691&ct=Yotspot%20article&mt=8)
android store link: (https://play.google.com/store/apps/details?id=com.truebearingdigital.workrestapp)
workrest.co link: https://workrest.co/?utm_source=Yotspot&utm_medium=Press%20release&utm_campaign=The%20easiest%20way%20to%20log%20and%20monitor%20hours%20of%20rest!