 Shocking moment luxury yacht explodes in flames in front of horrified onlookers at A-Listers' favourite beach in St Tropez
Luxury vessel was pictured going up in flames while anchored off Plage de Pampelonne, in St Tropez
Beach is the most famous in St Tropez, attracting businessmen and celebrities who moor yachts offshore
It is not known who owns the vessel, how the fire started, or whether anyone was injured during the blaze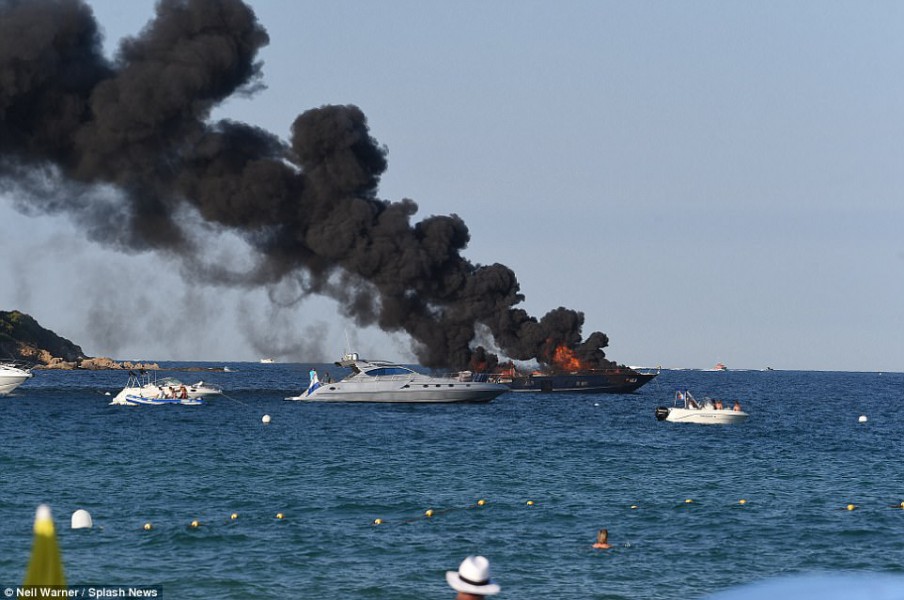 A luxury yacht moored alongside St Tropez' most famous beach has been pictured going up in smoke as it was gutted by a huge fire. 
The plume of smoke was easily visible from the sands of Plage de Pampelonne at around 6.30pm on Monday, according to local news site Var Martin.
Shocking footage taken from the scene by a Swedish tourist  shows a plume of smoke filling the sky as people stroll about on the beach.
The beach attracts the creme de la creme of tycoons, financiers and celebrities who come to relax at its beach clubs. Sir Elton John, Kate Moss Elle MacPherson and Paris Hilton are all known to frequent the very exclusive Club 55.
Often arriving by yacht, the magnificent vessels are left moored alongside the beach, and have become a tourist attraction in themselves, as up to 30,000 people visit per day.
It is not known who the boat belonged to, how the fire started, or whether anyone was injured in the blaze. The vessel had a Belgian flag attached to the front, but no other visible identity tags or a name.