 On Board Triathlon Training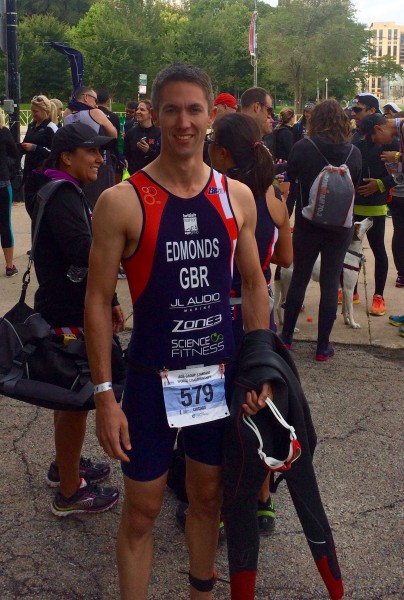 Yotspot caught up with GB triathlete and veteran superyacht captain Paul Edmonds to find out how he successfully juggled keeping fit with demanding superyacht shifts.
Yotspot: How long were you working on superyachts?
I spent 9 years onboard five of the world's most beautiful superyachts (from 75ft to 220ft). Traveling from Europe to the Caribbean, crossing the Atlantic several times, working my way up from Junior Deckhand to First Officer and then Captain.
Yotspot: Were you always interested in exercise?
Yes, but to a lesser extent whilst on yachts, it's difficult maintaining regular training when you're working a long shift and juggling haphazard working patterns. As I progressed through the ranks and gained more experience I realised I had to take any opportunity to go for a swim, even if it was only a few laps around the boat.
Yotspot: How far would you get?
The boat was 45 metres.  I started by doing 10 laps of the boat, so I'd get to about 1km.  I worked up to regularly having a half hour swim, when guests plan's allowed of course, and then started trying to do the occasional run and bike ride whenever we had the chance to get ashore.
Yotspot: Is it hard to plan a fitness schedule onboard?
Yes, it can be, depending on when the owner and guests are on board, shifts and rest breaks can be sporadic so it can be difficult to follow a strict and regular plan.  These days, working hours are so much better regulated, you're only allowed to work a maximum of 72 hours in any seven-day period, with a minimum of 10 hours rest in any 24-hour period which makes it marginally easier to plan breaks and therefore exercise.
We'd typically have 2 hours break, dictated by whether guests had gone on a day trip or were enjoying lunch ashore.  It would be a good time for some of the crew to have a break together and perhaps have a swim or go for a run.
Yotspot: When was your first triathlon?
2011 – one of my crewmates mentioned a triathlon in the South of France she wanted to do.  Knowing I could swim/bike/run she convinced me to join her and give it a go! I thoroughly enjoyed it and finished in a respectable time too!
That was just the beginning.  During the last few years of my yachting career, I worked 2 months on, 2 months off rotation, so I started investigating local events when I was home and started training more regularly and smarter. 
Yotspot:  What does 'training smarter' mean?
Training smart is making the absolute most from the time available and cutting out 'junk miles'. This often means training to a set pace or a set percentage of your max effort.  Having a qualified Coach plan your training is a great way to take the guesswork out of it and has the added incentive that you feel accountable to someone – always helpful if you're low on motivation.
I started making the most of my breaks, planning what I could achieve during a set session.  Cycling, running …it can be a bit haphazard when there's no goal.
The superyacht industry can be amazing, fun, addictive even, but it's hard work and some people don't really think about what they'll do once the time comes to leave.  I was always interested in exercise and the more I did, the better I got until I realised my passion was really in exercise.
Yotspot:  How did you make the transition from hobby to career?
I left superyachts in 2013 and got involved with a local triathlon club, got better and started racing at a higher level and eventually competing for my country at GB Age Group level.  It was then that I started thinking about how I could turn my passion into a business.
A few years on, I'm running Echelon Cycling from my home in the New Forest.  Cycling enthusiasts of all levels and abilities come and train together in a safe, fun environment.  I personalise everyone's training schedule and organise training sessions, so we can train together, whatever each individual's goal, whether it's a specific event or building up general fitness and stamina.
Yotspot: Tell us more about competing at GB level?
I've represented Great Britain as a sponsored athlete at International events for the past 5 years, achieving a 2nd GB Athlete place in my age group at Ironman Austria last year.
Yotspot:  What's next for deckhand turned GB triathlete?
I have a qualifying race for 2019 World Championships coming up and then this year's main event, European Middle-Distance Championship in Ibiza in October!  I'm hoping to beat last year's achievement, so I'm focused on fitting my training around other life commitments!
For more information visit www.echeloncycling.co.uk or email ride@echeloncycling.co.uk