 Future satcoms may come bundled from shipyards
Satellite communications will be offered through shipyards as a standard package of options within ten years, predicts Tony Holland of superyacht communications integrators e3 Systems.

That observation was one of many offered during e3's deep exploration of the issues within superyacht satellite communications, which forms the core of the company's expertise.

The event, held during the morning of the last day of the METS trade show in Amsterdam, was entitled "Connecting You to Your Future," and featured in-depth technology and market analyses from leading minds at Airbus Defense and Space and Cobham.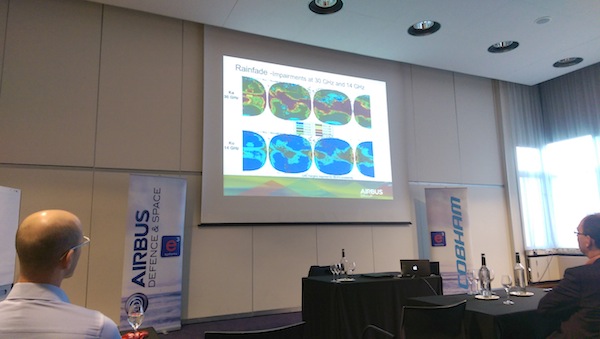 Noémie de Rozieres, head of satellite communication sales for key channel partners at Airbus Defense and Space provided an overview of the company's platform-agnostic approach to providing communication packages to their maritime client base, which she said grew significantly in 2014.

Citing references from captains of superyachts Phyrne, 2Ladies and Samar among others, Rozieres bolstered her company's approach and offered insight into the next generation of high-throughput sattelites.

"Inmarsat's Global Xpress system may offer sailing yachts in particular an advantage due to the smaller size of the radomes, though the service won't come online until all three satellites are situated in orbit, tested and functional, which could be another year," she said. 

Mads Ebbesen, TV solutions manager for antenna manufacturer Cobham explained the series of complex regional cruising, subscription signing and technological challenges that the company had worked to overcome with its latest offerings.

"Signing subscriptions for SKY or Virgin for example remains a tricky issue since the superyacht sector with its wide-ranging cruising areas and high-expectations of content delivery has been a major issue for us and our competitors, but workable solutions are available," he said.

Tony Holland wrapped up the successful day with an overview of why e3 has developed a hybrid approach that provides the lowest total cost of ownership in a package of combines services that adapts to evolving technology.

Bundling coastal services like 3G and 4G with satellite services and providing an intuitive switching system is key to e3's offering, Holland said.

"It's always going to be a mixture of broadcast TV-which is the cheapest way to deliver content-and point to point systems (like Netflix and on-demand content) which will become more prevalent as the price of satellite and 3G/4G connections comes down.

Kymeta flat panel antennas won't be entering the market until the end of 2015 or the start of 2016, but Holland has said that yacht designers are starting to take the technology into account as they consider their designs for the future.

"Service providers are finding ways to provide data services to yachts' unique usage profile: many are near shore most of the time and occasionally require ocean-going capabilities for trans-Atlantic or other long passages," Holland said.

The seminar was a glowing success for e3, who reported a sale immediately after the event.