 From the Superyacht Wild West to Oracle
The Superyacht Circuit from 1988 - 1993 
We caught up with 52-year-old corporate tech exec Duncan Ward this week, Account Director for Oracle Software Sales team in the UK.
By his own admission, he wasn't always a techno-nerd!   Duncan spent 5 years working on superyachts and whilst he absolutely loved every minute, he describes the industry back then "as being akin to the Wild West!!  It was the '80's and there just weren't the regulations!"
How did you get your first yachting gig?
I was 20. Living in the UK's south coastal yachting town Lymington.  A popular yachty haunt and my regular pub was (and still is!) The Chequers Inn and I'd hear friends swapping tales of working on yachts.  I'd always loved dinghy sailing but knew nothing of the superyacht industry, so that was my first intro.
I could sail, had reasonable sailing experience, a GCSE in nautical studies but that was it.  I'd never seen a motor yacht let alone set foot on one.  It was 1988 so there was no pre-requisite, no RYA qualifications. 
Of course, nothing was online, so I got my first job through a specialist recruitment agent, based in London, so my interview was over the 'phone.
A Spanish company who ran a number of motor yachts for owners were looking for deck crew to run the fleet. Carrying out deckhand duties, but mainly delivering boats from one port to another.
It was the perfect stepping-stone for the summer season.
What came next?
One of our deliveries was to Porto Cervo in Sardinia.  In the shipyard for repair was a beautiful 105ft Palmer Johnson sloop called "Magic Lady."  The Captain had driven it onto the rocks and been fired.  I met one of the crew in a bar in port who introduced me to the new Captain. It was owned by Charles Davies the movie producer, who famously produced Dustin Hoffman in "Tootsie."
At the end of the season I returned to Sardinia and joined a crew of 6 on "Magic Lady" crossing the Atlantic to the Virgin Islands. Spending about 2 months sailing, through the Med, Canary Islands across to the Virgin Islands. Again, working as deckhand, driving boats and working as temporary crew for the delivery.  That gig got me to the Caribbean for the winter season.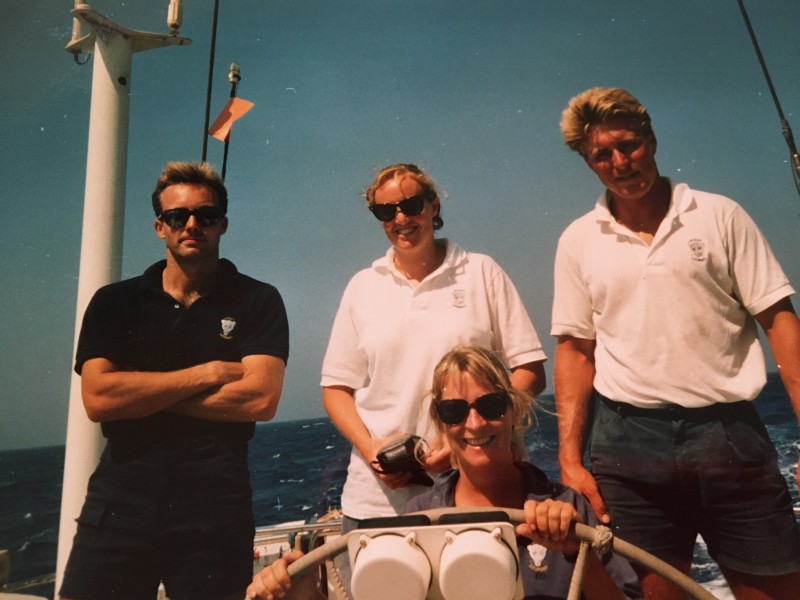 The power of "who you know"
I made my way to Antigua and bumped into someone from back home in Lymington.
She was a cook and wife of the Captain on board "Ocean Leopard" and I'd heard they were looking for crew.
I joined the 5 crew for a year onboard this 80ft sloop, owned by Michael Slade OBE one of the best known figures in the British property industry, running a mix of owner and charter trips.  Starting as deckhand and then working my way up to First Mate when the skipper left injured.  We toured the Caribbean, Antigua, Grenadines and the Virgin Islands.
Sailing back across the Atlantic to the Med for the summer season. Greek islands, turkey, sailing back to the Caribbean in time for the winter season.
I had a break for the rest of the year, doing a ski season and travelling to Australia, doing a little charter work.
I then went to the UK and started looking for another job. This time a trip to Antibes and a meeting with a local agent put me in touch with "Jagare" a 130 ft ketch, with 6 crew. I joined them in Monaco and spent the next 2 years as First Mate on this purely owner used superyacht, owned by Italian industrialist Mario Contini.
I'd only planned to do one more season, but the mix of a fantastic crew and a fabulous itinerary kept me on.  We spent 2 years virtually travelling the world; Europe, Indian Ocean, Africa, South America, the Pacific. 
Best Memory
We had lots of glamorous guests on board like Princess Caroline.  But the most memorable night was in Monaco when U2 and Michael Hutchence came back to the boat for drinks after an evening in a local nightclub, and I found myself chatting with drummer Larry Mullen.
How did you adapt to life at sea?
I slotted straight into the life. I was in my early 20's, with no ties and keen to see the world. I wish I could say to my old self now "live for the moment and don't worry too much about planning the next thing!"
I realised after 5 years I didn't want to do it forever, I wanted to stay still for more than a few weeks and in the end, I missed the change in seasons.
Also, when you're living on board you can never shut the door and go home. Your weekends are spent living on the boat with the same people and it can get quite insular.
Don't get me wrong, I made friends for life and still keep in touch with them 27 years later. But I didn't want to be doing it in my 30's and 40's.
The Wild West
It was like the wild west back then though. You didn't need any qualifications. No first aid or medical training, no fire training. There was a lot of driving dinghies into anchor chains!
But working on sailing yachts suited me better than motor yachts.  I didn't want to just scrub decks, polish rails and drive the tenders, I loved fixing, repairing, maintaining the rigging and being involved in sailing, so that suited me better.
I'd recommend it to anyone though, I've got memories that will last a lifetime.  Anyone interested should try it."