 From Newbie to Hooked in 12 months
Like many superyacht crew working onboard vessels at the time COVID-19 travel restrictions were implemented, the crew onboard MY Mirage were given the choice to either remain onboard, move into local crew apartments or return home to quarantine with family (wherever that may be!).
One crew member, Stewardess and Massage Therapist, Elle Watton, having moved ashore with fellow crew, was able to get back on board and start unpacking last week, ready for what will hopefully be the new charter season - as yet still to be confirmed.
Sitting in STP shipyard, Palma, onboard "MY Mirage", we caught up with Elle, as she comes to the end of her first year as superyacht crew.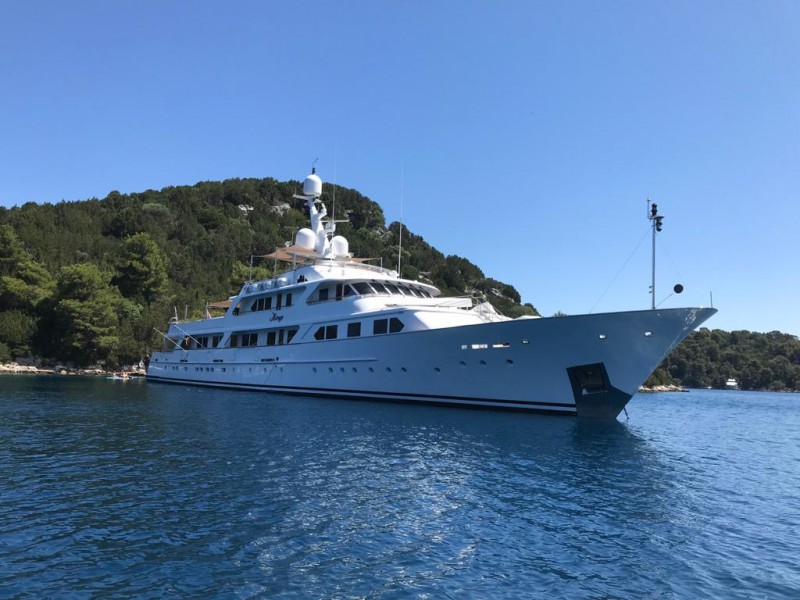 As a completely green newbie, who'd never even sailed before, Elle told me she's now absolutely hooked in just one single season. 
Tell us about MY Mirage
MY Mirage is a single-season vessel, previously due to start on charter the first week in May, but with the global effects of COVID-19, its only occupants are currently the crew living and working onboard.  As a single season Med charter, we normally run charters from May – September of either a week, 10 days, 2 weeks etc and we were due to head for Greece and Turkey this season.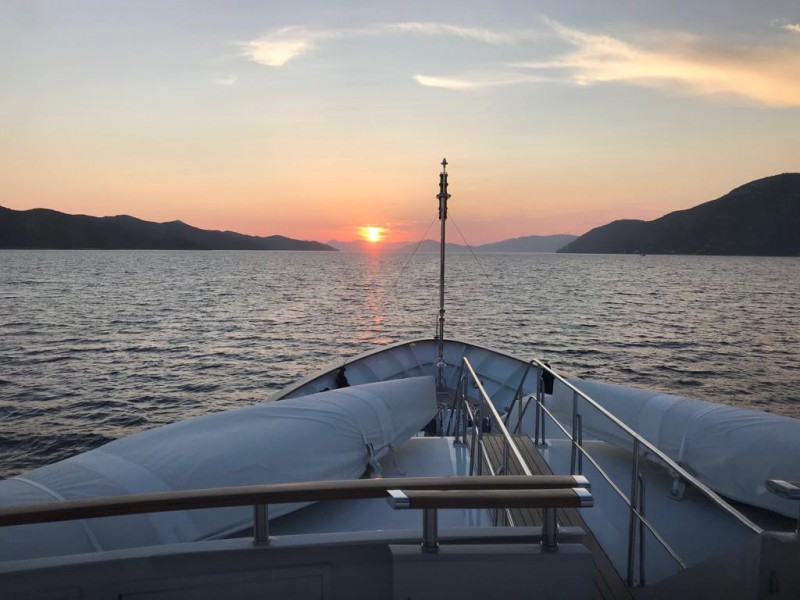 What were you doing back in the UK?
I was at Southampton Solent Uni studying International Business Management, with a placement year in Spain, then went on to college and trained in Beauty Therapy, working in Dorset's beautiful Chewton Glen Spa doing the usual beauty therapy, massage, nails, brows, lashes, pedicures and manicures. I met some lovely people and discovered I wanted to do my own thing, so rented a room in Hampshire's New Forest and set up my own salon, using the business skills I'd learnt during my degree.  One year in, I realised that apart from my placement year and European family holidays, I'd not done much travelling.  A friend suggested boats, but I was so green, I'd never even sailed.
How did you hear about the industry?
Speaking to a few clients and friends, I started to learn about race crew, race boats and superyachts, and soon realised I could use my beauty therapy experience to get a job where I could get to travel and see some of the world.
What courses did you do?
I signed up to get my ENG 1 and STCW whilst I was still self-employed, getting them both completed within 4 days, the latter through Warsash Maritime Academy  - packing up the business in January 2019.
I didn't want to be out of work for long - I couldn't afford to be - so I contacted all the recruiters (including Yotspot), created profiles, uploaded my CV/Qualifications and said I'd be available from the end of Feb.
How did your background help?
With my beauty skills I found I was more in demand, like the PT instructors, nannies, yoga instructors and cooks.  If you have another skill - you're definitely more in-demand.
How did you get your lucky break?
My mum has a place in Palma, so I was able to station myself here so I could start "dockwalking".  It's hard though, lots of them are closed or have restricted access. It will be even harder this year, with the restrictions around Coronavirus.
Making connections
Within 3 days of being in Palma, I had an interview with Chief Stew on a boat whose Captain was a friend of one of my client's husbands, back in Hampshire.
By the first week in March I was offered a job as Stewardess/Beauty Therapist on this fabulous 54m vessel M/Y Mirage, with her 20 crew; 5 on rotational positions, 15 onboard at any one time.
What's it really like?
Working and living in close proximity to complete strangers was hard to begin with.  At 23, I was the youngest on board, so I really was the baby and so nervous to begin with, but I've been incredibly lucky. Mirage is such an incredibly well-run boat. We got given the Stew Bible, our guide to set up.  Both Captains (Colin & Steve) and Heads of Department are really good at recruiting crew, everyone has a really strong work ethic, working together as a team, with a genuine respect for one another.  We all pull our weight and even spend our free time together.  This year we have a new junior deckhand who also did her cadetship at Warsash and she's only 18, so I'm not the baby anymore.
What's a typical day?
My time as stewardess/massage therapist is split 80/20.  With 80% of my time either in housekeeping, service or laundry with the other stewardesses, including the Stewardess/Yoga Instructor whose time is split similarly. The other 20% of my time is allocated to daily massage/treatment bookings.
Since there's no spa onboard, my beauty treatments are done in the sky lounge, where I set up and utilise the available facilities to conduct a menu of treatments; massage, manicures, pedicures, brow and lash treatments.
Because we are busy with guests wanting to book treatments, the Chief Stew really looks after us so we can get our other duties completed too. Treatments usually take place in the mornings for around 2 hours a day, when we're on charter. Depending on whether guests are going ashore for the day or if there's an event planned onboard etc.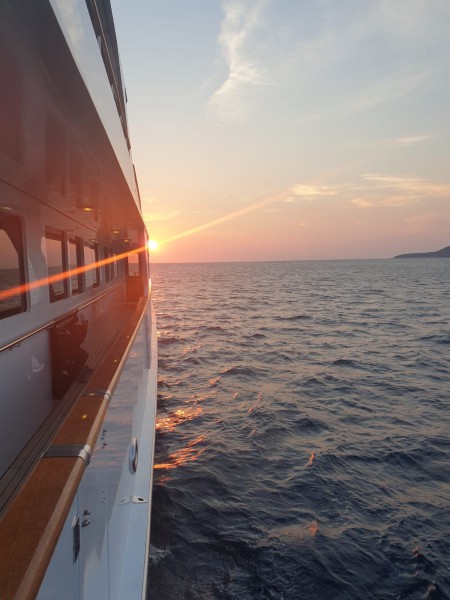 How has your life changed?
This is hands down the best job I've ever had, mainly because of the people, there's a good mix of boys and girls, aged between 18 - 55, and a wide range of nationalities represented; South African, Kiwi, British, Scottish, Croatian, Bulgarian, American, Aussie and Portugese. 
We also get good holidays, 42 days per year (including a month off in Winter!) and the Captains are open to unpaid leave during the winter - if approved of course!  As crew, we do the recces before the charter.  Last season we visited Croatia, Italy, Malta, Menorca and France. During the Winter I used my savings to take a trip to Bali in October and the Philippines in February and this year I hope to travel further.
What's next?
This season we were due to visit Greece and Turkey but we're obviously not sure at this point, normally the owners and charter guests come from Europe and the States so with the current state of affairs we're not sure how or when they'll get here.
What's the down side?
I miss friends, family and my good group of girlfriends back home, but we've all dispersed since Uni and when I'm home everyone makes an effort to get together. And with my mum's place in Palma, I get to see her lots when we're moored here.
What's your verdict on your first year?
This job started as a stop gap, so I could travel, save money and maybe go home with a deposit for a house. But, one season in and I'm totally hooked, I'm in it for the long run.  Ideally, I'd like to move up to 2nd Stew, perhaps in another season or two, being Stew/Masseuse is great but it's such a great boat no one tends to leave, so not many jobs come up. That says a lot about the boat and the crew.
How has COVID-19 affected you?
Because we were in between seasons, the boat was due for a repaint here in the STP yard anyway, but as soon as local authorities informed us, some of the crew moved off the boat, whilst others went home on rotation, or to quarantine with family.  Quite a few of our crew have houses here in Palma, so the rest of us moved into flats and we've only just moved back onboard.
Fingers crossed we'll be able to get back on track with the next season of chartering as soon as possible.