Is the yachting industry diverse and inclusive?
In conjunction with International Women's Day this month She of the Sea's co-founders Jenny Matthews and Natasha Ambrose published their annual report findings into diversity and inclusion data across the yachting industry.
The big question. Is the yachting industry diverse and inclusive?
With only 33% of She of the Sea Pledge Signatories currently collecting D&I data, She of the Sea have made it their mandate to champion diversity and to use up to the minute data to affect change – if and where it's needed.
In an industry committed to high performance and innovative thinking, the real value for all stakeholders is to be irrefutably diverse and inclusive. But to find out what the landscape really looks like, Jenny and Natasha needed to collect data and analyse metrics right across the sector; from shoreside employers, training schools, recruiters to thousands of employees in the yachting workforce.
Yotspot's Steve said "when Jenny told me about her research into diversity within yachting, it was clear we could help. With nearly 75,000 registered members on our Yotspot jobs board, our sample data represents ALL crew looking for work."
By signing up to She of the Sea's pledge, Yotspot joined a taskforce of key industry leaders, including law firms, management companies, schools and yacht recruiters in their commitment to supply data on workforce, hiring practices, talent pipeline and career progression, both onboard and shoreside.
Jenny told me "since launching our online pledge and onboarding key signatories, we've globalised, using recognised standard practises for our CSR reporting, not just spitting out results, but giving us valuable metrics across finance and tech. Whilst it shouldn't be, this is a new conversation for our industry and the start of real change."
"We can use these resources, tools and major stats to recommend where change is needed. But also what we do and how!"
The hi-lights from the research … the Shockers!
Myth Busting – it's not a 50/50 split of male/females! Yotspot's database of 30,000 crew, plus data from management companies as employed crew, showed that women make up only 28% of total crew. (across ALL departments!)
Leadership Progression – when comparing the male/female split between entry level jobs and higher up the ranks the drop off from females was significant:
Entry Level Deckhands = 10% Female
Captains/Chief Officers = 1.9% Female
Entry Level Cook = 45% Female
Exec/Head Chefs = 15% Female
Entry Level Engineers = 3% Female
Chief Engineers = 0.5% Female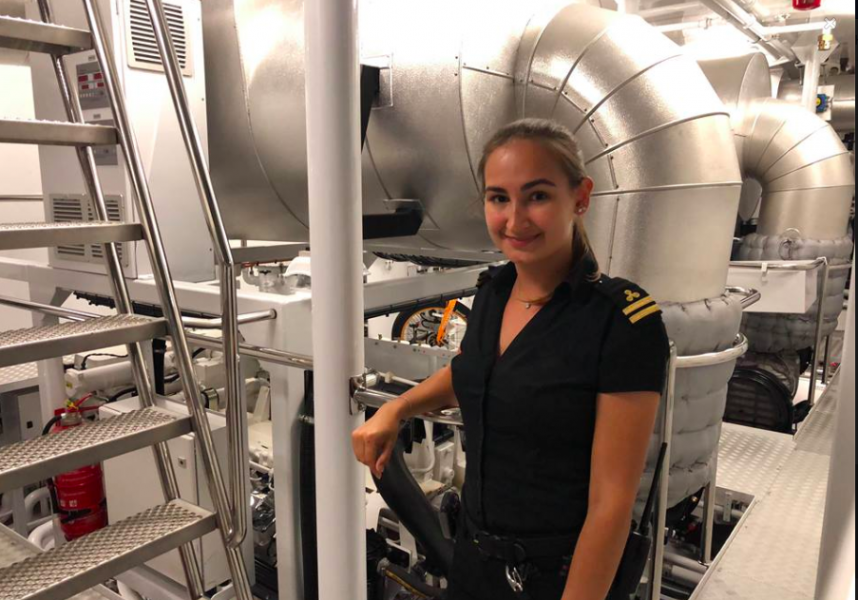 We need more signatories on our pledge, so we can collect more data from a wider pool of respondents. Giving us qualitative insights into representation of race, ethnicity, disability and orientation across the industry.
Yotspot's Steve commented "What is evident from the data is there is still a clear discrepancy between males and females looking for work within deck and interior departments, with males typically looking for a greater % roles within deck departments and females a greater % within interiors."
A Big Push for 2021
The next step for She of the Sea is to do some qualitative research with a larger pool of respondents, in line with GDPR requirements. With a fully transparent structure in place, they can find out how diverse the industry really is. Across diverse sectors we can benefit from sharing common challenges, how we engage diverse talent better, busting jargon, myths and the yachtie stereotype.
What do men and women think, are certain nationalities or ethnicities under-represented and why? What can we do better?
So why didn't we ask these questions first time around?
Jenny explained. "GDPR has strict rules on how you can collect sensitive data such as race, ethnicity and orientation. Capturing that information has to be voluntary, anonymous and completely transparent for the protection of the individual's privacy. And quite rightly so."
So, here's how we do it.
Take part
Jenny told me "Our industry values privacy and trust, so we commend all those yachting organisations who've come forward so far, supporting our pledge for greater diversity and sharing information. To take the next step, we ask that more yachting organisations sign up to our pledge and support our next survey, designed to capture qualitative insights needed to engender a fully diverse, inclusive and inspiring yachting industry for upcoming talent."
"This diversity issue has been brewing for a long time and the reaction from the industry has been amazing. We can see from the stats that the landscape's not great, but we know what we need to do next. We invite you to join us."
As part of their commitment for inclusion, Jenny and co-founder Natasha Ambrose have also developed the relatively young but already successful Legasea Mentoring Programme. The first industry-wide mentoring programme for career focused yachting professionals. Connected via in-house mentoring software.
LegaSea is for yachting professionals (ashore and at sea) of any gender and diversity, in all departments and sectors, at any stage of their career. Giving them access to regular workshops, interviews and supplier events hosted by reputable speakers and supported by leading industry figures.
"Here at Yotspot we're incredibly proud to support the ongoing programme of research to ensure diversity and inclusion in this fabulous yachting industry of ours."

How to get a job in yachting?
Simply set up a profile on Yotspot and search for the right position for you. It's easy. Set the filters for either contract, permanent, seasonal or delivery, vessel size, start date and salary and search the positions for you. Could be an expedition vessel or superyacht.
What's Yotspot?
Where over 72,000 yachting professionals come to either post or search for the latest yachting positions, both on and offshore. With over 860 jobs to choose from, save time and effort by looking through hundreds of jobs with yachts, agencies and management companies.
Search maritime courses and training providers to start your career in yachting and progress down the path you choose, whether it's the engine room, galley or in the salon.