 Superyacht Floristry Tips
Gemma Zannoni has kindly helped us put together some tips to help you build beautiful floral displays on board superyachts:
Behind the Scenes
When ordering, select the correct types of flowers to order based on seasons and guest preferences.
You will need to calculate how many flowers in total you will need for a guest trip and assess when you will need to top up your order bearing in mind your location.
Agree to use a crew area (if there is no Florist studio or Florist Fridge) to store flowers in and ensure the cabin temperature is cool enough.
Ensure you have plenty of buckets of water ready when the flowers arrive on board. STERILIZE your buckets. This also applies for vases. When it comes to flowers, cleanliness matters. "A clean vase filled with fresh water is the best way to keep your flowers fresh."  Before putting flowers in a vase, you can disinfect the vase with bleach and water, be extra careful, and use the correct bleach, please check what you are allowed to use on board.
IMPORTANT! Condition your flowers. Strip leaves off and cut stems diagonally with a sharp florist knife/scissors so they're clean, avoid having any leaves or debris in the water as this creates bacteria which causes the water to smell.
You'll need good sharp florist scissors, if nothing else they'll save your wrists!
Ideally, you're aiming for flowers to last between 7 to 10 days, so you're going to need to look after them.
You'll need to change or at least check the water in the buckets every 2 days or so to avoid build-up of any bacteria growing.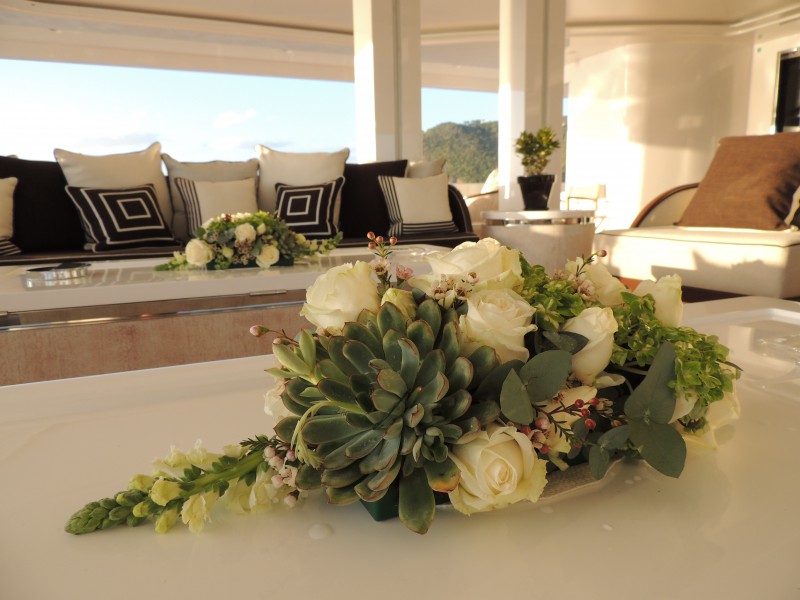 Executing Designs
When designing compositions for the dining table, consider your table shape and size, think about the width and don't let compositions invade place settings.
Keep dining table floral compositions low and non-invasive, so guests can see one another and converse.
Try to avoid placing flowers in direct sunlight.
Protect furniture surfaces at all times, lay your display on a protective mat or anti-slip mat to avoid staining or scratching surfaces. That is a RULE I apply for all Interior & Exterior furnishings!
Heat is your enemy! It doesn't take long for flowers to wilt in the heat.
Top up or change the water daily if you have a vase display.
Remove single dead blossoms. They accelerate the natural process of wilting.
Be aware of the damaging effects of sea salt, spray and humidity.
NEVER place flowers close to fruit: Fruits like tomatoes, bananas and apples produce high levels of ethylene gas. This causes more rapid ageing of flowers and leaves.
NEVER place flowers in front of a window. If you are asked to do so you will need to monitor this daily as they may wilt quicker than others.
You'll need to be strong to lift big displays – get a Stewie to help!
For any other tips or inspiration get in touch with Gemma Zannoni @
www.boutiqueflowersbygemma.com
www.instagram.com/boutiqueflowersbygemma
www.facebook.com/boutiqueflowersbygemma
Images copyright of Gemma Zannoni